The Spanish Gene and Cell Therapy Society (SETGyC) is a sound and long running organization comprising dedicated Spanish researchers committed to the research and development of gene transfer and cell modification for clinical purposes. The SETGyC maintains strong connections with industrial and regulatory partners. The society embraces a collaborative spirit that aligns perfectly with the principles of our GeneHumdi initiative. In a heartfelt open letter, the current President of SETGyC, Ander Izeta, emphasizes that "the foundation of cutting-edge medical advancements lies in the utilization of novel therapeutic tools such as gene therapy and genome editing for the treatment of genetic disorders." Reflecting the shared valued of this institution with our owns.
This year, Pamplona will host over a hundred leading gene therapy scientists, including renowned key speakers. Tony Cathomen , Felipe Prosper, Ignacio Melero, Paula Rio , Juan Bueren and Raúl Torres to name a few of the the forefront of gene therapy and genome editing for therapeutic purposes in Europe that are presenting in this meeting.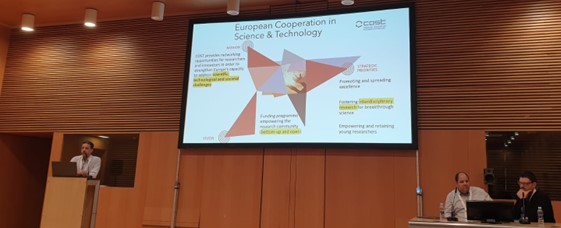 To promote the Action's mission dr. K. Benabdel lah has been awarded a grant by the GeneHumdi Management Committee to facilitate the dissemination and presentation of the Genome Editing for the treatment of Human disease (GeneHumdi | COST action CA21113) during the Bi-annual Meeting of the Spanish Society of Gene and Cell Therapy. This grant aims to support Dr. Benabdel lah in showcasing the remarkable achievements and advancements of the GeneHumdi initiative to all attendees at the conference.
During his speech in the inaugural session, Karim Benabdellah had the opportunity to present the ambitious plan of GeneHumdi. He graciously extended an invitation to early-career professionals and students to join the initiative, recognizing that nurturing relationships and fostering communication and collaboration with specialists from across Europe is a crucial initial step.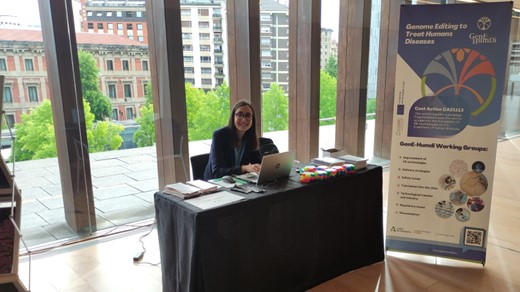 Furthermore, reinforcing the presence of GeneHumdi and to reach young scientist at the SETGyC meeting, the GeneHumdi initiative has a dedicated sign-in stand, where our extraordinaire Grand Holder Coordinator, Maria J. Bazuelo, is actively engaging with prospective Action Members. She is sharing our values and her insight into the mission of the initiative and highlighting the remarkable opportunities that come with being part of this transformative action.