Genehumdi achieves great success with its first call for short-term scientific missions, engaging young scientist into genome editing projects and boosting collaboration and network expansion in the field of gene editing.
Granada, July 1st, 2023 – GeneHumdi, a pioneering initiative to turn academic gene editing into medical trials, is thrilled to announce the successful launch and resolution of its first Call for Short-Term Scientific Missions (STSM). This remarkable scientific exchange opportunity not only enhances mobility but also expands the network of promising scientists, fostering the development of new collaborations among current and future leaders in the gene editing field.
The recently concluded First Call for STSM witnessed an exceptional response, with numerous outstanding applications received. While only the top six applicants secured funding to travel and exchange knowledge with their host centers, GeneHumdi wishes to acknowledge the commendable quality and scientific rigor exhibited by all the received proposals. In light of this, the Management Committee is actively considering extending the budget to support young scientists and STSMs among action members.
It is with great pleasure that we extend our congratulations to the six awarded trainees, recognizing their significant contributions to the advancement of gene editing research.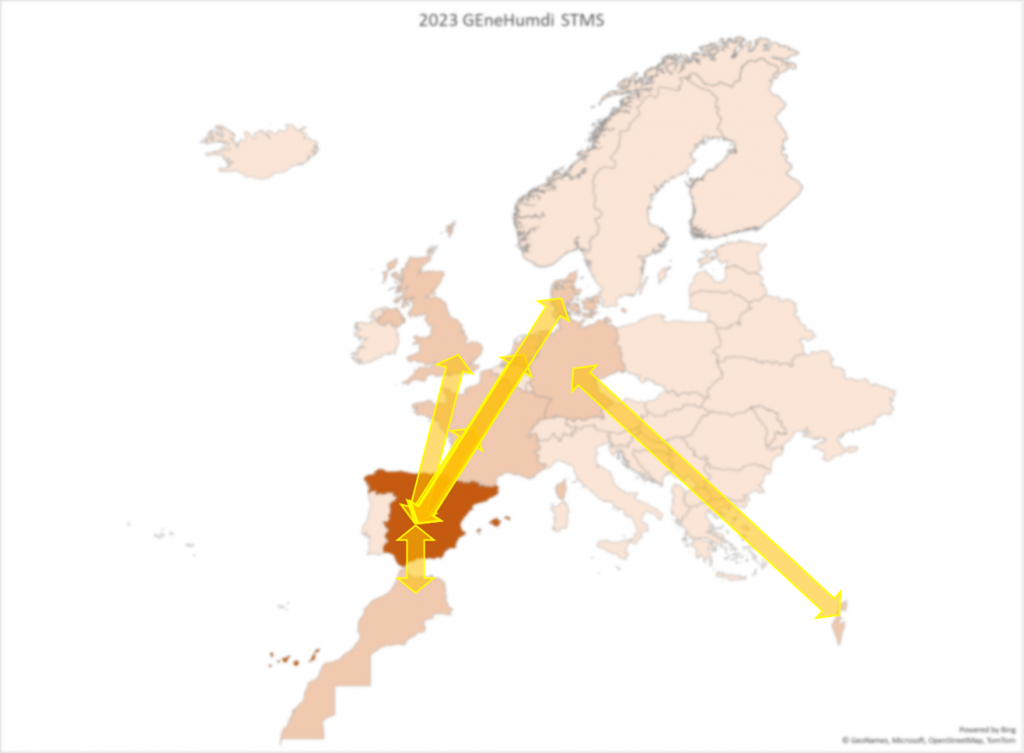 Marcelina Abal Sanisidro, a PhD candidate at the Health Research Institute of Santiago de Compostela (Spain), presented the project "Editing strategies for β-hemoglobinopathies." Her remarkable proposal secured her a stay into the Laboratory of Chromatin and Gene Regulation during Development, led by the revered Dr. Annarita Miccio, currently located at the Institute of Genetic Diseases Imagine, INSERM UMR1163 in Paris, France.
Paula García Sacristán, a PhD candidate at the NanoChemBio group at Granada (Spain), specializing in nanotechnology delivery strategies for gene editing approaches, will undertake the project "Optimization of non-viral delivery methods: in vitro efficiency determination of gene-editing lipid nanoparticles" at the Department of Biomedicine, Aarhus University in Denmark (Denmark). She will be under the expert guidance of Yonglun Luo, renowned for his expertise in Gene Editing Delivery tools.
Iris Ramos Hernández, a PhD candidate from GENyO, Granada (Spain), has been granted the opportunity to travel to the prestigious Manuel A.F.V. Gonçalves laboratory at Leiden University Medical Centre/Department of Cell & Chemical Biology in Leiden (The Netherlands). Her project, "Harnessing CX3CR1 Intron 4 Knock-In: A Novel Endogenous Protective Regulation for Expression Cassette during Stem Stages in HSPCs for Paracrine Ex-Vivo Strategies" aims to characterize optimized advanced genome editing protocols that will revolutionize medicine in the years to come.
Prof. Khalid Sadki from the Faculty of Sciences, University Mohammed V (Morocco), will be visiting Dr. Karim Benabdelah's Laboratory at Fundación Pública Progreso y Salud in Granada (Spain) to develop his proposal, "Enhancing Immunotherapy and Genetic Technologies in Morocco through International Collaboration and Training."
Rotem Shachal, a senior research assistant at ABC, Sheba (Israel), will fulfill the project "CRISPR Knock-In of TCRs to target resistant pathogens" at Dr. Dimitrios Laurin Wagner's laboratory at Charité – Universitätsmedizin Berlin (Germany).
Last but certainly not least, Maria Stampa, a trainee at IQS, Universidad Ramón Llul (Spain), has been selected for her proposal, "Coating of therapeutic adeno-associated viral vectors for effective gene therapy of Duchenne muscular dystrophy." Under the expert supervision of Alberto Malerba, she will carry out her research at the prestigious Royal Holloway, University of London(United Kingdom).
GeneHumdi is excited to witness the positive impact these exceptional young researchers will have on the field of gene editing and looks forward to fostering further collaboration and innovation through future initiatives.
[July 15th update, There is a second round of STSM and ITC grants available: check this post]
About GeneHumdi COST Action:
The overwhelming interest displayed by numerous action members and the resounding success of the first call have inspired the Management Committee to extend the Action budget. As a result, a second round of applications for short-term missions and financial support of ITC young scientists willing to participate in conferences or meetings representing GeneHumdi's interests, such as the European Society of Gene and Cell Therapy (ESGCT) annual meeting in Brussels at the end of October, will be offered.
GeneHumdi is a pioneering COST Action that aims to advance the field of gene editing by promoting international collaboration and knowledge exchange. By connecting talented scientists and facilitating scientific mobility, GeneHumdi strives to accelerate breakthroughs and improve gene editing techniques for the benefit of society.
Francisco Javier Molina Estévez
Science Communication Coordinator
GeneHumdi|COST action CA21113
Javier.molina@genyo.es